Data cleansing and management plays a vital role in every business. The process of data cleaning and management becomes quite challenging when there are multiple languages and times zones across various countries involved. Accurate and clear data not only regulates daily operations but also holds substance for the future. With the evolving times, data cleansing and management has become extremely needed. Data scrubbing services, data formatting services and data enrichment outsourcing services validate the importance of data, boost productivity of the business and improvise company returns over investment to a large extent.
Data superior quality is a vital ingredient for the success of endeavour intelligence operation openings. A client looking out for data cleansing services requires a trustworthy expert consultant, who thoroughly understands their prerequisites, offering 100% precise services at short TATs, most importantly achieving the goals of the business. Companies that wish to outsource data enrichment tasks must contact leading data scrubbing companies in order to make things run smooth and save time. Sharing incorrect, incompatible or inconsistent data between sets of records will lead to misplaced business, fall in credibility and losses.
With DataPlusValue acting as your outsourcing collaborator for data cleansing services, we help our clients save time and other resources, by offering superior services at affordable prices. The companies or individuals can completely rely on us for their data management while focusing on core business operations and other important functions.
We at DataPlusValue undertake projects from various companies and businesses that with to outsource data cleansing services. The monitoring team at DataPlusValue closely rechecks, modifies and evaluates data to ensure that content generated for a client is clean before dispatch. Incorrect prepositions, punctuation errors and grammatical mistakes are corrected. Such data is then reset into the client's database. In cases of large data management, cleansing also includes making available consistent and correct data across multiple databases. Unrecoverable, non-operational and redundant data is eliminated in order to save space and make operations easy. Besides purging, data cleansing also includes completion of missing data using directories like Google.
Our faculty includes a set of highly skilled data analysts and data cleansing experts making sure to use their resources to utmost perfection and implementing the latest techniques while carrying out their assignments. Each and every part of the end result is examined manually, updated from time to time and cleaned thoroughly.
Steps Involved in Data Cleansing Process at DataPlusValue
Our Data cleansing process is extremely profession, to the point, affordable and unique. We specialize in web research, data mining, data abstraction, data cleansing services and all such related facilities. Your outsourced work will conserve your time give us another experience gaining opportunity.
Data Cleansing Services provided by our team ensure that Size, Font, Color, Text Cases – Upper and lower. Title formatting, Captions, Tiles, Field Length, Pivot Tables, Data filtering, Subtotals, Sorting Order – Ascending or Descending, Total, Graphs, Postal Addresses, Contacts Formatting, Zip Codes and all the other available data are maintained and managed based on the requirement of our clients.
Our data cleansing process includes:-
Individuals or a group of persons read through sets of records to verify accuracy. Spelling mistakes and typos are corrected, mislabeled data are properly filled and labeled, and incomplete or missing entries are completed.
We ensure that correct and consistent data is available across different databases. It minimizes errors and helps to maintain meaningful and useful records especially if the volume of data stored is large.
Out-dated or unrecoverable data are purged to ease operations and conserve space.
We correct misspelled words and delete data not updated in the last few months or years and delete duplicate records.
Incorrect or inaccurate data is either deleted or corrected within a single set of records or between multiple sets which work together or need to be merged.
Enriching missing information in the database through the Google search or other directories.
Our Offering: A Range of our specialized data cleansing services
Data cleansing outsourcing is a step-oriented procedure that involves a team of experts as well as custom software and tools. The fundamental segment in this process is staff and client relationship. With years of experience in the data cleansing field and advanced technical knowledge, our professionals communicate, prioritize and collaborate client data to utmost perfection meeting every minute requirement. We specialize in mro data cleansing and mro data scrubbing.
We offer a wide range of Data Cleansing Services for customers to choose from including:-
Our data cleansing professionals are capable of handling the other data-related services as well such as data mining, web research, data conversion, data abstraction, etc. Please contact us to hire data cleansing experts from India at the best price possible.
Why DataPlusValue is a Preferred Outsourcing Data Cleansing Partner?
We are one of the leading data cleansing service providers, with a team of experts and updated system tools. Along with cleansing the available data, we also help format and assemble the data as per the company requirements. Data cleansing services will make sure the company data becomes compact, updated, accurate and clinched.
Since processes involved in data cleansing service, formatting, conversion and preparation for up-load is exacting and time consuming, it would be wiser to outsource select components of one's business to DataPlusValue as we have good experience in data-migration. We are one among the top few in the list of Data cleansing services, India.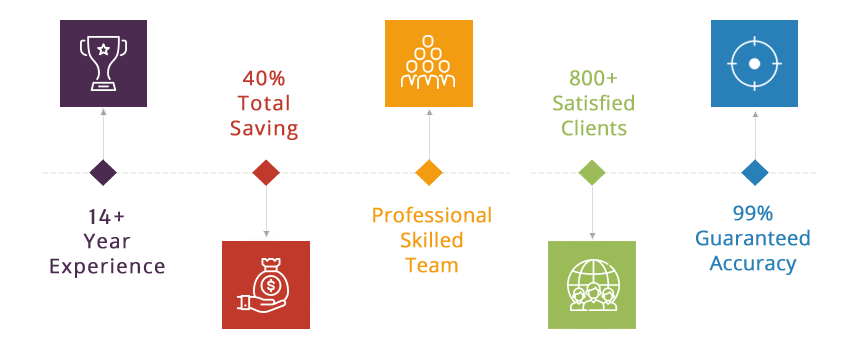 Here are some key benefits of outsourcing data cleansing services, which help you in selecting us:-
We offer a FREE TRIAL on data cleansing, where you can get to know our work quality.
We have extensive skills in managing projects of varying sizes.
We have confidentiality agreements with our employees in place to secure your data.
A back-up of corrected data is preserved and furnished to the client in case of loss of their database.
Experts at DataPlusValue correct, update and normalize all types and sizes of records.
Data-intensive organizations can outsource their data cleansing to DataPlusValue to examine records systematically for flaws using look-up tables, rules and algorithms. This will save administrator's time and money as compared to fixing records manually.
Get in touch with us today to outsource data cleansing services and we'll be happy to assist you.